The dust had just settled from the desert and the roads would slowly become steeper. A look back on the last couple weeks on the Altiplano, my thoughts on crossing from Chile into Peru and what it takes to cycle all the way up to Machu Picchu without hitting an Alpaca head-on.
In terms of getting to the TOP – this would not just be a day trip or a short walk in the forest. Hitting the old Arequipa – Puno road was a 5-day-bike-trek through the Las Salinas saltflats with hundreds of Alpacas lining the dirtroads!
It was a lonely ride up there with few small settlements along the road but riding a bike above 4000m is something so intense you wake up in the middle of the night hoping you have already reached Machu Picchu and than you realize you just camped below zero in an abondened wood shack!
The moment you reach Juliaca a stone throw from the famed Titicaca lake it starts to make all sense, the altiplano starts stretching out and gone are the days were you could barely hold on to the handlebar, from being simply out of breath. You have finally acclimatized.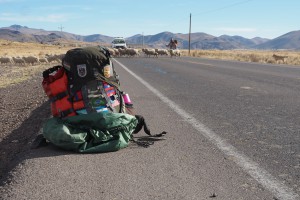 With every kilometer the thought of reaching Machu Picchu is turning into a reality which was weeks ago sitting down by the seaside in Arica just a dream. The sheer lack of transition, the effort your body had to make to withstand the altitude and physical stress of working out in such conditions was simply to hard to imagine. All you can do is roll with it! Stop complaining and put the hurt down. With the cyclists from Patagonia all vanished you are hitting the lonely roads with the odd truck driver giving you a honk!
And then it has all come to an end you have reached Cusco take a look around and there is comfort and comradery everywhere. You have done it!
Riding 10.000 k with a full load through the winds, deserts and altitude of South America didn't come to me just by hoping on a bike. It was dedication, sweat and tears all the way to the beginning of this journey. Grip Grab sat down with me and took a deep look into my preparations for this odyssey.
NPH Austria gave me the opportunity to contribute to their charity starting from the month of July not only by raising awareness through the PAR project but also participating in person in one of their villages. I am looking forward to join NPH and can't wait to realize a whole bunch of new ideas with this great team throughout the next weeks.